References
Fundashon Mariadal in Bonaire
Type of work
Ziekenhuis, verpleeghuis en verzorgingshuis
Location
Kralendijk, Bonaire
Completion
Eind 2017 (gepland)
Client
Fundashon Mariadal
Architect
De Brouwer Advies en Architectuur (Budel)
Consultant
Winkels I&S
Contractor
Bonned Contractors (Bonaire) i.s.m. Haafkes (Goor)
Engineer
Winkels I&S
High levels of cure & care in the Caribbean
After Bonaire was given the status of a "special municipality" of the Netherlands, developments at the Fundashon Mariadal hospital in Bonaire were accelerated. Winkels I&S has been involved in the construction and renovation of the hospital in Bonaire for many years together with construction company Bonned. Tristan Botjes (project manager at Fundashon Mariadal), Roland Haafkes (project manager at Bonned), architect Frans de Brouwer and Henk Winkels (director at Winkels I&S) have their say.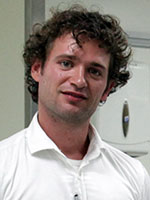 Tristan Botjes
Fundashon Mariadal is an umbrella healthcare organisation that offers the complete package of healthcare services, with the exception of primary healthcare. The combined cure/care institute includes a hospital, nursing, home care, emergency aid and a pharmacy. As one of the largest employers in Bonaire, it wants to lead as an example with new developments. The hospital also wants to conform with Dutch standards and legislation, which have been applicable in Bonaire since 10th October 2010, as soon as possible.
Quality of life and care
Tristan Botjes explains: "We want to provide maximum possible of quality of life and care for the residents of Bonaire in a way supported by the Netherlands. One concrete aim is to be able to provide 80% of the healthcare in Bonaire so that we have to transfer fewer people to other islands, e.g. for dialysis. This would be more convenient for patients. In addition, this way we would also have more control over quality and costs."
Experience in the Caribbean
Winkels Techniek has previously provided two hospitals in Aruba with installation technology. The company also took part in projects on the islands of Sint Eustatius and Saba. Tristan Botjes: "We chose Winkels because of their knowledge of installation technology in the area of cure and care and their experience in the Netherlands Antilles. Moreover, we were already familiar with Winkels through their maintenance of our existing installations."
Winkels takes the local conditions and customs into consideration. And is no-nonsense, knowledgeable and trustworthy.
Frans de Brouwer: "I have been working together with Winkels Techniek for Fundashon Mariadal for 15 years. I have seen the extent to which Winkels takes the local circumstances, which are quite different from what we are used to in the Netherlands, into consideration. For example, the tropical climate and also the use of buildings and installations and the customs of staff and patients. I have experienced Winkels to be no-nonsense, knowledgeable and trustworthy."
Focus on the client
Winkels I&S, as an advisory M&E engineer, introduces alternative solutions in the preliminary phase of the expansion and renovation projects. This results in a structural plan with the main features of the project, including financial support. Once approved by the Board of Directors, Winkels Techniek gets to work as the engineer. The components are implemented in phases and completed under the direction and supervision of an external engineering firm.
Henk Winkels believes this double role means that the client gets the best result. "The fact that we are involved in all facets of the project means that we can use our knowledge and experience to provide the best quality within the limits of the budget. The client therefore sometimes gets more than expected."
Winkels cites the provision of green lighting in addition to standard white version as an example - this allows the medical personnel to perform their work better. "We can go the extra mile if we see the opportunity to do so using our own experience or knowledge. This creates trust."
Local challenges
Fundashon Mariadal has to deal high ambient temperatures, high UV radiation and high humidity in its housing. In addition to that, the healthcare organisation is also confronted with being isolated on a remote island and having a fast growing and rapidly aging population.
Winkels I&S has transformed our needs into a system that works for the Caribbean and is sustainable too.
Botjes: "I appreciate the way Winkels tackles our local challenges in such depth. Winkels has transformed our needs into a system that works for the Caribbean and is sustainable too. The installations, for example, are executed in a way so that we can quickly move between buildings ourselves and have our own backup. We can therefore remain in control and guarantee continuity."
Energy savings
Frans de Brouwer: "Winkels always shows a great interest in new developments and also treats them with the necessary importance. This has, for example, resulted in solutions at lower operating costs."
Henk Stores added: "It is possible to save a lot of expensive energy by using cooling cleverly. We have also provided operating rooms with systems for downflow, medical earthing, air purification and pressure hierarchy. You need to have the right knowledge for this to work well with the local climate."
The electrical features include things like emergency generators, equalisation systems and transformer cabinets. In terms of IT and security, the hospital has nurse call systems, access control and fire detection and evacuation systems.
Collaboration and reacting quickly
At Fundashon Mariadal, Winkels I&S works together with ancillary contractor construction company Bonned Contractors and Roland Haafkes is responsible for the structural design. "From my experience, Winkels I&S is as a very pleasant construction partner. We work together closely and work hard for each other. Winkels is cooperative and flexible when we need each other," said Roland Haafkes.
Winkels is cooperative and flexible when we need each other.
Botjes added: "Winkels I&S has shown in several projects that they can react quickly. When goals changed, they were able to quickly adapt the design and function of buildings. For example, converting part of the rehabilitation department into a full sterilisation department. Overall, Winkels is a flexible, long-term partner with whom I can work extremely well."
Winkels is a flexible, long-term partner with whom I can work extremely well.
Architect Frans de Brouwer agrees: "Winkels I&S is also a committed, patient and loyal installation partner towards its client in difficult times, and attention is paid to the client's interests and they portray a great sense of responsibility."
Scheduling
As well as the projects for Fundashon Mariadal, Roland Haafkes and Winkels I&S are also working together on the construction of the Brede School Papa Cornes in Bonaire. Roland Haafkes: "It is great that Winkels are able to stick to their schedules. Their stable base in the Netherlands means their purchasing and logistics are managed effectively. Their engineers have a sense of responsibility and good knowledge of matters. Backup is always available when needed. This provides the extra force needed to succeed in construction projects like the one on the island of Bonaire.
Local engineers
Although Winkels I&S still bears full responsibility for the maintenance of technical installations at the time of writing, Winkels Techniek is in close contact with local technical service. Henk Winkels: "We are determined to train staff in technical maintenance and to bring their current knowledge to a higher level. In time, maintenance will be split into parts."
Winkels I&S manages its procurement and logistics effectively. This provides the extra strength needed to success with construction projects like the one on the island of Bonaire.
Tristan Botjes: "Winkels I&S undertakes to use local engineers in all contracts. This is another example of Winkels I&S showing its social commitment."